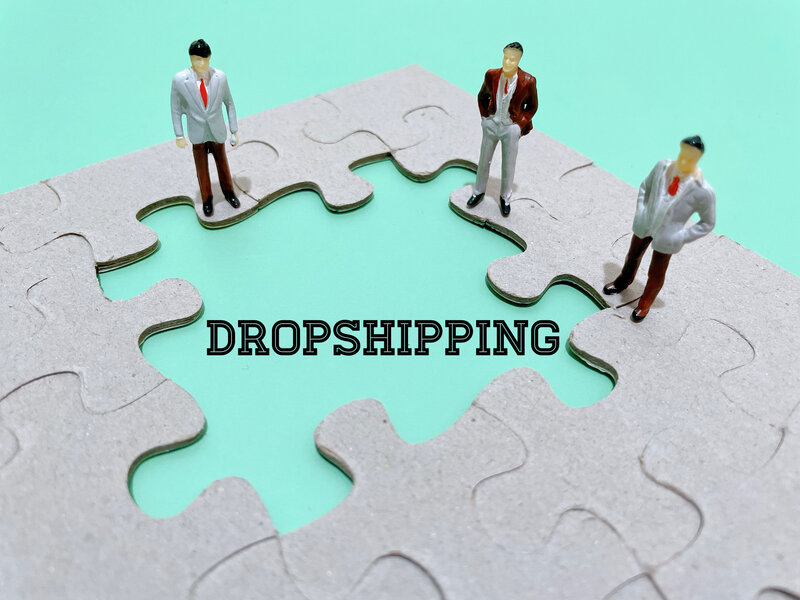 With dropshipping, you can sell products online without the products ever being in your hands. All you need is a computer, an online store, and a basic understanding on how to market and sell online.
Dropshipping is a method of order fulfillment, meaning how you get products to your customer. For example, a customer places an order for $150 as a retail price, and your store keeps $50 profit, you forward the order to your supplier and pay wholesale, so that would cost you $100, and the supplier shifts the stuff directly to your customer, this is a very high example just to make it clear. So they pay you, you keep a percent off as profit, and you are spending that money to order from your supplier, they send it directly to your customer. You don't ever even touch the product. You are basically the middleman, as you can see the stores in the middle of the customer to the supplier.
This attractive fulfillment model can appeal to entrepreneurs looking for efficiency and low overhead and has gained popularity over the past couple of years.
How Does Dropshipping Work on Amazon
Amazon is one of the biggest online selling platforms in the world, with sales of $502 billion in 2022, and it can also be an attractive marketplace for dropshipping.
Amazon dropshipping is a form where you sell products you do not have to store or create yourself. The benefits are that you don't need any inventory, there are meager startup costs, and you can do this without money or experience. You can do this from anywhere in the world, and it's a great way to start making some extra passive income on the side because you are not dealing with a lot of the logistical nightmare when it comes to buying a bunch of stuff from China and shipping it out yourself.
Before jumping into Amazon dropshipping (or allowing a third-party to fulfill orders), you must comply with Amazon's terms and conditions to avoid suspension.

"Drop shipping, or allowing a third-party to fulfill orders to customers on your behalf, is not acceptable unless it is clear to the customer that you are the seller of record. The following examples of drop shipping are policy violations that may result in a restriction of your ability to sell using Amazon's Merchant Fulfilled Network (MFN):

Purchasing products from another online retailer and having that retailer ship directly to customers, if the shipment does not identify you as the seller of record or if anyone other than you (including the other online retailer) appears on packing slips, invoices, or external packaging, it is strictly prohibited without exception; or

Shipping orders with packing slips, invoices, external packaging, or other information indicating a seller name or contact information other than your own is also strictly prohibited.

Any time a customer sees packaging, invoices, or receipts identifying a seller that is not either you or Amazon it creates confusion for the customer about how their order is being fulfilled and whom they should contact with any problems or questions.

If you intend to fulfill orders using a drop shipper, you must always:

Have an agreement with your supplier that they will identify you (and no one else) as a seller of your products on all packing slips, invoices, external packaging, and other information included or provided in connection with the products;

Remove any packing slips, invoices, external packaging, or other information identifying a third-party drop shipper prior to shipping the order;

Be responsible for accepting and processing customer returns of your products; and

Comply with all other terms of your seller agreement and applicable Amazon policies."
In addition, Amazon requires all dropship sellers to abide by their strict code of conduct; failure to comply with any of the rules may result in suspending your selling privileges. Your –
Order defect rate must be less than 1%,
The cancellation rate must be less than 2.5%, and
The late shipment rate must be at most 4%.
Dropshipping from Aliexpress and eBay to Amazon is illegal; the best way to run a smooth and reputable dropshipping business on Amazon is to use a distributor or wholesaler as your dropshipping supplier. 
How to Get Started
Now that you learned the basics of Amazon dropshipping and how it works, here's how you can set up a dropshipping business on amazon.
1. Product Research: Next, you must look for a product you want to sell on Amazon. You can do your product research using tools that will help you find profitable products by analyzing Amazon data. You should get approval from Amazon depending on the type of product you plan to sell. Some examples of product categories that require approval are jewelry, fashion, and grocery. Amazon has some category restrictions, so review that prohibition list and ensure you are not selling any of them. For beginners, homewares, sports, gardens, outdoors, and patios are some great categories as they tend to be low maintenance. Once you have done your product research and found the right product to sell, you need to find a supplier.
2. Signup For An Amazon Seller Account: The number one step you need to follow is just open up an Amazon account. Signing up for an Amazon seller account is easy; go to sellercentral.amazon.com and register. Enter all the information Amazon asks for, like personal details, billing, and tax info, including business details and address. Amazon offers two types of seller accounts – individual and professional; you can choose any of them according to your need. Ensure you sign up for a professional account if you plan to sell over 40 products. A professional account costs $39.99 monthly, while a free individual account charges $0.99 for each item sold. To get the buy box, you will need a professional account.
3. Listing Product on Amazon: You can start listing your product once your Amazon account is verified. To add a product, go to your Amazon Seller Central account and select Inventory > Add a product. Click "Create a new product listing" when the Add a product screen shows up. Choose your product category and fill out other required information for the listing. You need to ensure you have a high-quality product image and customer-centric product description to add to Amazon to attract your customers. A quick tip is that add keywords in your product description and title to generate more traffic. You can publish your listing as soon as you are all set and start making sales.
4. Promote Your Amazon Store: Amazon is a competitive platform, and to drive more traffic toward your listing, you have to invest money in paid promotions. To reach new customers, you can run ads using Amazon's internal sponsorship program, Pay-Per-Click (PPC). If you already have a following for your brand, then external methods such as social media, Facebook ads, email marketing, blogging, etc., can also help.
Pros & Cons of Amazon Dropshipping
Assuming you have a dropship supplier in place, let's dive deep into the advantages and disadvantages of dropshipping on Amazon as an online business model. Here are some benefits of dropshipping on Amazon:
Amazon Is A Huge Global Marketplace
Amazon has over 50% market share for all of e-commerce; as a result, Amazon is by far the largest online retailer in the US. When it comes to launching your online store, most people are concerned with generating traffic, and Amazon essentially solves the traffic problem for you. Every day Amazon has millions of shoppers looking to buy the products you have to sell. By piggybacking your products on existing listings and winning the buy box, you can leverage the Amazon Sales Channel to make sales immediately!
Easy To Setup
It's also straightforward to set up Amazon dropshipping. Most people fear the technical aspects of starting their e-commerce store, but with Amazon, you don't need to be tech-savvy. You don't need a website or a hosting company; even you don't need to know anything about conversion optimization. All you need is an Amazon seller account to sell your products online. In most cases, you don't need to create a new listing because one already exists; as a result, you may not even need to take product photos or purchase UPC codes. Read the Amazon seller agreement in terms of service before you start selling.
Amazon Dropshipping Involves Low Risk
Another Amazon dropshipping benefit is that you don't need to buy products upfront. Amazon dropshipping is likely to have the lowest barriers to any e-commerce business model entry. With a free Amazon seller's account, you can start making money immediately without any money required beforehand. You don't need to buy inventory in advance, so you don't have to worry about cash flow, unsellable products, or clearance items. There are no overhead costs or inventory risks, meaning practically anyone can do it without experience.
More Freedom
Amazon does not require you to stay in a specific location; you can do Amazon dropshipping from anywhere in the world. You are good to go if you have a supplier to process and ship your orders to the customers. You are also allowed to fully automate your dropshipping business on Amazon with certain available online apps and plugins. This way, you can be utterly laid-back with your dropshipping business and utilize time for other productive activities.
Amazon dropshipping has a considerable list of cons; here are the downsides of the main advantage of dropshipping on Amazon:
Thin Margins
Amazon dropshipping margins are razor-thin. Dropshipping margins are shallow and depend on the supplier and the product for sale. Typically dropshipping carries a 10-30% profit margin for specific products. Meanwhile, it can be pretty expensive to sell on Amazon; for example, Amazon takes 15% of your top-line revenue right at the bat as Amazon selling fees. If your margins are only 30%, you only have 15% left over to play with, and with such a low-profit margin, any minor slip-up can ruin your business. Dropshipping other people's products on Amazon is predicated on winning the buy box and maximizing your gross profit margins and chances. You will not be the only one on Amazon selling the same products; as a result, you constantly have to play with your pricing to compete with other sellers, and usually, the lowest price wins the buy box. Unless you have the best margins for your products, winning the buy box and still making an acceptable profit will be extremely difficult after you subtract Amazon's fees. Low margins also mean you can't spend money on advertising and promotion.
Customer Returns
Processing customer returns can also be a significant issue because Amazon's return policy is so liberal. You will often have to bear the cost of a return if the customer does not return your products in sellable condition.
Amazon & Supplier Prices Change Constantly
Prices on Amazon are dynamic and constantly change similarly; your supplier prices also change regularly unless you watch both Amazon and your supplier prices like a hawk. It's very easy to either lose out on potential sales or lose money altogether on sales due to out-of-date supplier pricing. As an Amazon dropshipper it's almost impossible to manually change prices for all your Amazon listings and account for supplier pricing changes simultaneously. Purchasing an automated tool and Amazon repricing tools are expensive and will incur additional overhead on a business with razor-thin margins.
Amazon Dropshipping Business Is Not Sustainable
You can't sell an Amazon dropshipping business like a traditional dropshipping store. When you dropship on Amazon's platform, you don't own the marketplace, customers, or products. With the Amazon dropshipping model, you are a meritless middleman peddling goods you don't own or control. You can earn short-term cash this way, but it's not an asset. A lot of dropshipping suppliers start selling directly on Amazon themselves in some cases.
Dropshipping & Amazon FBA
You can dropship with Amazon FBA, and you are free to choose the category and quantity of products for fulfillment. You can ship and store them to Amazon Fulfillment Centers with specific fees. Amazon FBA will pick, pack and ship the products to customers when customers make orders. Customer support and returns are also on Amazon under FBA service.
FBA provides many advantages, but this might not be the right option for beginners because you need to invest money in inventory. You might require a large amount of capital to purchase inventory and ship to Amazon FBA. On top of that, Amazon FBA charges fees for fulfillment and monthly storage.
If you are a new entrepreneur and don't have enough capital to invest in stock inventory, dropshipping can be a good deal for you. You don't have to take bigger risks with dropshipping, and it's profitable and less risky.
Is Amazon Dropshipping Right For You?
Though Amazon dropshipping is an easy business model to start, it's actually difficult to master if you want to make significant money online. You can only profit significantly at scale because your margins are low. The bottom line is that you need to sell many different products, bring down your cost, and ensure that your Amazon listings are statically price optimized. At the same time, your inventory counts and product descriptions must always be accurate; otherwise, there is a chance of getting banned.
Have any other questions regarding dropshipping on Amazon? Let us know in the comments below!