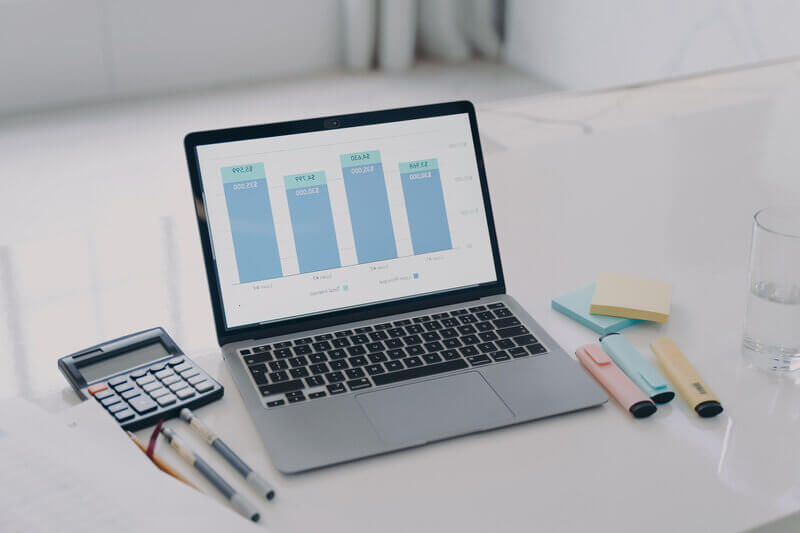 Amazon PPC helps you increase your sales, and profits and make you spend less time and money. PPC ads enable sellers and vendors to target specific keywords to create advertisements for their stuff. These advertisements are visible on Amazon's search results and product detail pages.
This article covers Amazon PPC, its advantages, types of PPC campaigns, and a simple optimation and scaling strategy for your Amazon PPC to help you develop a good Amazon PPC management strategy.
What Is Amazon PPC
When it comes to Amazon advertising, it's becoming increasingly important to ensure that you have a calculated plan to increase your brand's visibility in the marketplace. Amazon runs off a particular model called pay-per-click (PPC). This means that advertisers pay a fee each time a potential customer clicks on their ads, and PPC is an auction system where the sellers bid on the search term in order to win an ad position on the search results. Their visibility will be determined by how much they bid and their ad ranking. Ad ranking is the higher you bid against your competitors, the higher you will appear on the search results of that specific search term.
For example, if you are selling baby diapers and someone searches for "baby diaper," then your product listing was the first one on Amazon's search page, and they clicked that listing, so you will be charged per click on your actual account.
Importance Of PPC For Amazon Seller
Amazon has over 350 million products, and your listing can easily get lost in the noise. The better ratings you have and the better sales velocity you have over your competitors in your niche, the higher on a search result you will appear.
When you have a brand new product, you will end up somewhere on the fifth or even the tenth page if you do not pay for the advertisement. Customers rarely look past the first page when looking for a product they want to buy. You have to think from a customer standpoint, a lot of Amazon sellers only think from a seller's perspective, and that is why they are unsuccessful.
PPC is essential, especially for new products, because it increases your reach to your customers. It will help you get your first few sales and first few reviews, which means a successful product launch. Getting more sales as well as more reviews is your sales velocity. When people see that you have more reviews, they will buy your product more. Then you will start ranking higher organically on the top of the first page or second page of the highly relevant search term for your product. It's going to create a snowball effect on your organic ranking.
Basic PPC Terminology
1. Impressions: How many customers see your ad.
2. Clicks: How many people click on the ad.
3. CTR (Click-through-rate): Ratio between how many customers have clicked on your ad and the number of people who have seen it.
Formula for CTR = how many customers click your ad / how many people have seen your ad (impressions).
4. CVR (Conversion rate): The percentage of how many shoppers click on your ad and also purchase your product.
Formula for CVR = can be calculated by the number of orders / the number of visits.
5. ACoS (Advertising cost of sale): This is how much you spent on advertising compared to how much you made from sales through advertising.
Formula for ACoS = advertising cost / advertising sale revenue.
How much Does PPC Cost
The cost of PPC on Amazon can vary a lot depending on two metrics:
Time of year, for example, Q4, will be a lot different than Q2. Q4 is Christmas time, and advertisements cost 2-3x more than they would during springtime.
It depends on the demand for a specific keyword or search term.
A low-volume search term which is anywhere from 500 to 3,000 customers searching that specific keyword per month, could cost between $0.75-$1.50 per click.
High-volume search terms (10,000+ searches per month) can cost anywhere from $2-$8 per click.
Models Of Amazon PPC Ads
With Amazon advertising, there are three major models that brands traditionally use when growing their visibility on the platform. They are:
1. Sponsored Product Ads
Single product listing ads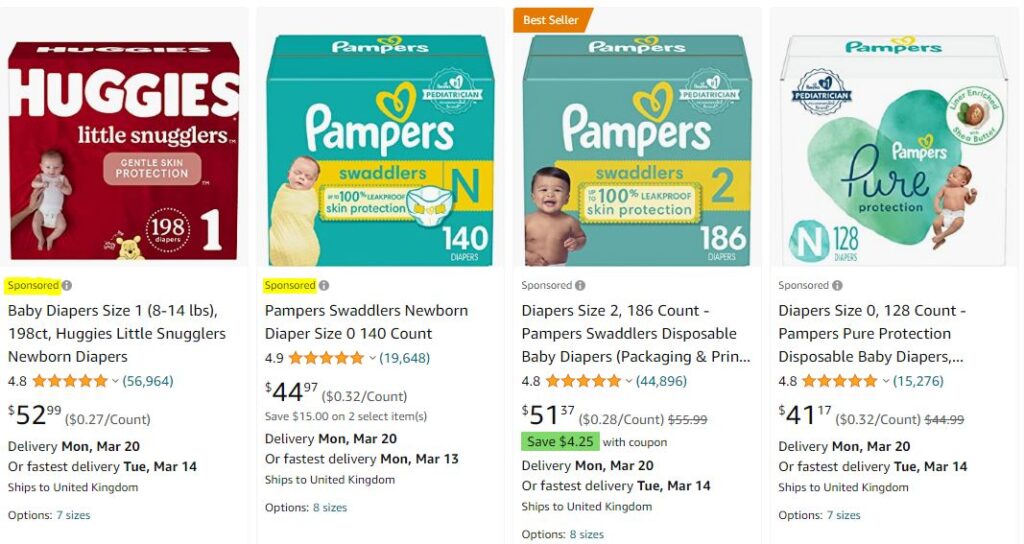 2. Sponsored Brand Ads
Top of the page as a banner or video ad that you see in the middle of the page.
You need a brand registry for these ads, which means you must register a trademark for your product before you can display these ads.
Also known as "headline search ads."

3. Sponsored Display Ads
It appears on the sides of listings, which can appear on and off on Amazon.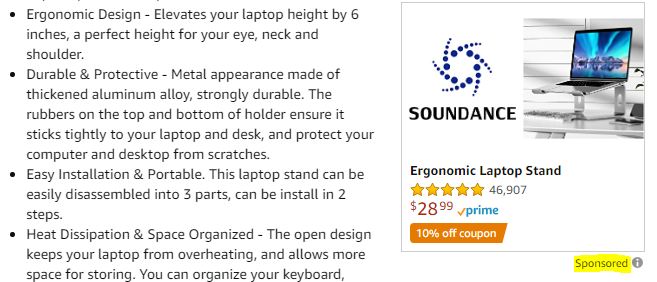 Three of these are the Amazon trilogy to help grow and drive your brand on amazon.
Steps To Take To Start PPC Ads
Pick a product that you want to advertise.
Do keyword research for that product.
This is important for how Amazon will determine what market you will fit in organically.
Keyword research is significant for both auto and manual campaigns.
Optimize your product listing.
This is very important for your auto campaigns. Put highly relevant keywords on your listing title, bullet points, and description.
Create your campaign.
And finally, choose your target audience.
Types Of Campaigns
There are two ways you can target your customers:
Auto Campaign: An auto campaign is where Amazon uses your product information to target your ads. This is why listing optimization is essential. When making it, everything you write on your product listing, the title, the bullet points, the description, and all that stuff, Amazon will automatically compile those words you wrote on your listing. And start targeting those kinds of audiences, those kinds of keywords.
Manual Campaign: Amazon uses your supplied keywords and bids to deliver your ads. You plug in your keywords from your keyword research that you think are relevant to your product.
Setting Up An Auto Campaign
If you are a beginner to PPC advertising, Amazon usually recommends starting with an auto-targeting campaign. Follow the below process to set up your PPC campaign.
1. Sign in to your Amazon Seller account.
2. Go to the Advertising tab and select "Campaign Manager."
3. Now click the "Create Campaign" button below the graphs.
4. Select "Sponsored Products" from the different ad models shown there.
5. You will be required to enter the following information in the Campaign settings:
Campaign Name
Start Date
End Date
Daily Budget
6. Create an ad group and name it.
7. Choose a product you want to run the campaign for.
8. Select an audience targeting type.
9. Choose a campaign bidding strategy.
10. Select your negative keywords.
Once you have completed all the information, cross-check them to confirm. Click the "Launch Campaign" button if you are satisfied. Your campaign usually takes 30 minutes to an hour to go live on Amazon.
Tips To Create An Effective PPC Strategy
Select the right type of keyword matching.
Boost your conversion rates by including negative keywords.
As a beginner, try to bid 50-100% higher than what Amazon recommends.
Set the daily budget as well as default bids.
Let campaigns run for at least a week before making changes to them.
Check automatic campaign reports to find keywords for your manual campaigns.
Let keywords get at least 10 to 15 clicks before removing, changing, or adjusting from your manual campaign.
Review and modify your ad reports once a week.
Do your keyword research using a keyword research tool focusing on related keywords that your competitors use.
Keep testing out each type of PPC campaign and keyword targeting to see what works best for you.
Conclusion
Now you know all the basics for amazon PPC. We hope this article helped you gain knowledge of everything that you understand better about Amazon PPC in general. With the strategy tips mentioned here, you can successfully run your campaigns and increase conversion rates.