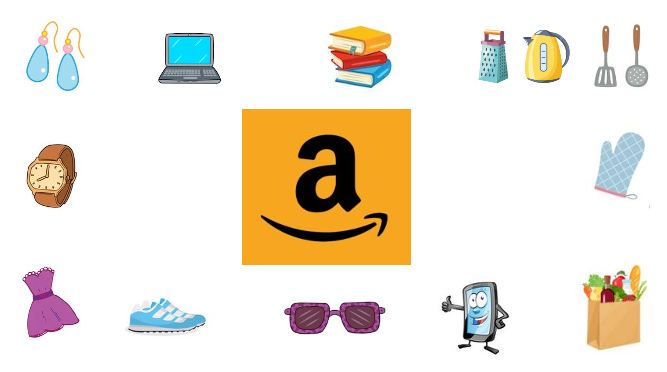 A few decades ago, anyone could sell anything online when it became possible and popular. However, this does not imply you should sell any product on Amazon in recent times. The massive e-commerce retailer actively works to safeguard its customers against hazardous or fraudulent products. 
Amazon has a number of categories that are restricted to most sellers. They are known as "Restricted Categories" or "Ungated Categories." There are still some product categories that you may sell on Amazon without getting approval. To guarantee that buyers are receiving high-quality products for the money they are spending, that list gets shorter every year.
So let us discuss the essential information concerning Amazon's category and product restrictions, gated categories, and how to get ungated.
Table Of Contents
Categories you can sell on Amazon without approval
Gated categories on Amazon
Gated products on Amazon
Getting Approval In Amazon Gated Categories
Consequences of violating listing restrictions
Final thoughts
Categories You Can Sell On Amazon Without Approval
Most e-commerce businesses search for product categories that do not require approval by Amazon so that they can start selling straight away. Fortunately, there are a number of profitable ungated Amazon categories that you may sell in without having to get clearance.
The majority of the most popular product categories, including books, toys, groceries, and home and kitchen supplies, are not restricted. Any registered Amazon seller is permitted to start selling products in these open categories. 13 of the 33 main Amazon seller categories are entirely unrestricted. Ten others from the remaining are unrestricted but may have subcategories or certain products that need pre-authorization.
Starting off as a seller of unrestricted products allows you to open a store and run straight immediately. Additionally, if you want to sell in gated categories in the future, your success as an ungated seller may have an influence on your potential to get approved. The following Amazon categories are completely unrestricted and do not need prior approval to sell in:
Amazon Device Accessories
Automotive & Powersports
Beauty
Books (Non-Collectibles)
Camera & Photo
Cell Phones & Accessories
Home & Garden
Industrial & Scientific
Major Appliances
Musical Instruments
Sports
Tools & Home Improvement
Gated Categories On Amazon
In order to safeguard customers, Amazon has labeled certain categories as "restricted." Before selling any items in these categories, Amazon sellers must acquire approval. Amazon has a distinct list of restricted categories and restricted products depending on the marketplace and local laws. While Amazon US will be the main emphasis here, many of the procedures for receiving approval are universal.
The following is a list of restricted categories in the USA:
Holiday Selling Requirements in Toys & Games
Amazon Watch Warranty FAQs
Made in Italy
Video, DVD, & Blu-ray
Collectible Coins
Streaming Media Players
Personal Safety and Household products
Grocery & Gourmet Foods
Music Category
Lighting Category
Beauty Topical
Sports & Nutrition
Watches
Gardening & Watering
Automotive
OTC Medication
Haircare & Beauty Appliances
Baby Topicals
Toys
Pet supplies
Medical supplies & Equipment
Pet Care
Pet Food
Candles & Aroma Therapy
Power Tools
Home Environment Electronics
Wireless Accessories
Baby Feeding
Feminine Hygiene
Baby Activity Gear
Baby Strollers and Carriers
Audio Visual
Gated Products On Amazon
There are restricted products as well as categories that need approval to sell. Additionally, the platform can forbid certain of these items. Amazon also controls the usage of branding as well, so make sure you have the authorization to sell a product from a popular brand if you want to do so.
The following is a list of restricted products in the USA:
Alcohol
Animals & Animal-Related Products
Art – Fine Art
Art – Home Decor
Automotive and Powersports
Composite Wood Products
Cosmetics & Skin/Hair Care
COVID-19 Supplies
Currency, Coins, Cash Equivalents, and Gift Cards
Dietary Supplements
Drugs & drug paraphernalia
Electronics
Explosives, Weapons, and Related Items
Export Controls
Food & Beverage
Gambling & Lottery
Hazardous and Dangerous Items
Human Parts & Burial Artifacts
Jewelry & Precious Gems
Laser products
Lighting
Lock Picking & Theft Devices
Medical devices and accessories
Offensive and Controversial Materials
Pesticides and Pesticide Devices
Plant and Seed Products
Postage Meters & Stamps
Recalled Products
Recycling electronics
Subscriptions and Periodicals
Surveillance Equipment
Tobacco & Tobacco-Related Products
Warranties, Service Plans, Contracts, and Guarantees
Other Restricted Products
Refrigerants: Ozone-Depleting Substances and Substitutes
Upholstered Furniture, Bedding, & Other Quilted Products
CPAP Cleaning and Disinfecting Devices
The list of restricted items is continuously updated, much like the list of restricted categories. At Amazon Seller Central, you can keep track of any modification.
Getting Approval In Amazon Gated Categories
It is not necessary to give up and start over just because your product falls under an Amazon restricted category. Most of the time, requests for Amazon category approval are simple but time-consuming. You may sometimes receive automatic approval after submitting a request. This usually happens after some time of successful selling on the platform.
If you are trying to list your products but see a "Listing Limitations Apply" message, try the following in Seller Central:
1. Log in to your Seller account, then click "Inventory."
2. Select "Add a Product" within your Inventory menu.
3. Look for the products you want to sell.
4. If it returns as restricted, click "Listing Limitations Apply" next to that item.
5. Click "Request Approval" to start the approval procedure.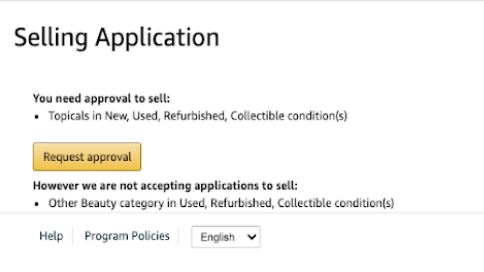 It is possible that you will receive a response right away stating that your request has been granted. Otherwise, you will be asked by the system to provide further information. A bit more complexity may come with the additional details. You may be required to submit detailed wholesale invoices and information about your current business and products.
Amazon takes into account the invoices you supply in addition to other factors when deciding whether or not to grant you access to the restricted category. Prior to making a final decision, Amazon might want to review the following points again:
An order defect rate of less than 1%
A plan for pro-sellers
A good-standing account
A minimum of three months' worth of sales history
A return address in the country where you're selling OR a guarantee of free delivery
Support for customer assistance in the local language
Consequences Of Violating Listing Restrictions
Violations of Amazon listing policies may result in actions such as:
Cancellation of listings
Limits on listing privileges
Suspension of listing privileges
Removal of listing privileges
Amazon reserves the right to make judgments in its sole discretion about whether or not a listing is appropriate.
Final Thoughts
Your experience as an Amazon seller is entirely up to you. You can get a lot of expertise and establish a solid seller reputation on Amazon. After doing that, you may decide if you want to start selling in one of Amazon's restricted categories.
Although getting approval to sell products in gated categories is challenging, it is often worthwhile. Many of these categories possess tremendous sales potential for those sellers who are ready to go that "extra mile."
Restricted categories have less competition since they are less saturated. The secret to your success on Amazon is to look for opportunities where others will not.