In real life or e-commerce, nobody loves to get negative feedback. Receiving negative feedback on your Amazon seller account can affect your sales, profits, and Buy Box percentage. Therefore, it is crucial to learn how to remove negative feedback on Amazon.
Over 6 million third-party sellers sell on Amazon. Amazon sellers must maintain a high feedback rating in order to stand out and stay successful, given the level of competition.
Sellers cannot gain the trust of buyers without a seller rating. Customers may easily identify which seller is the most reliable and trustworthy by scanning the feedback ratings on Amazon seller profiles.
A seller loses the trust of potential buyers when their feedback rating is poor. When choosing between listings with similar prices, customers usually always decide on the one with higher ratings.
If you are a seller and do not know how to remove negative feedback on Amazon to improve your seller rating, do not worry! In this article, we will go through how to eliminate them.
On This Page
Amazon feedback removal guidelines
How to remove negative feedback on Amazon?
Leave a public response on Amazon's site
Importance of seller feedback
Keeping negative feedback off of Amazon
Summary
Amazon Feedback Removal Guidelines
You should always read the Amazon feedback removal guidelines before submitting a removal request. Only the following circumstances justify deleting feedback since buyer feedback on Amazon is an accurate reflection of the buying experience:
The response contains words commonly understood to be obscene or profane.
The feedback comments include private information, such as email addresses, full names, or phone numbers, that can be used to contact the poster or the seller.
The customer feedback is a product review.
Remember that feedback is the customers' subjective opinions on whether or not they liked the products, assuming they received them in good condition and as promised.
Reviews that speak to the veracity of a product's description or its current condition will be kept in accordance with Amazon feedback removal standards. Because it is the seller's duty to ensure that the product received matches the description. Among them is ensuring that brand-new items are delivered undamaged and in perfect condition, as well as that used items are what they claim to be.
How To Remove Negative Feedback On Amazon?
There are two ways to get rid of negative feedback on Amazon: either contacting Amazon or the buyer to remove it.
Contacting Amazon To Remove Feedback
If you want to get rid of those bothersome negative comments on your account, this is definitely the easier approach.
1. Head over to Accounts Settings. Then select "Orders" and then "Customer Feedback Issues."
2. Describe why you think the comment should be deleted in the area provided. Tap "Send."
3. If you are successful, you should receive a notification from Amazon stating that the negative entry has been deleted.

Faster feedback removal for professional sellers by Amazon:
1. Go to "Selling on Amazon" after selecting "Contact Us."
2. Then proceed to "Your Account," followed by "Other Account Issues."
3. You may now ask someone to remove the feedback in a chat conversation.
In light of these, it is now your responsibility to keep a close eye on your seller feedback and notify Amazon if there are any comments that fit into the aforementioned categories.
Contacting Customer To Remove Feedback
Contact the buyer if the feedback cannot be removed by Amazon. It is absolutely possible for buyers to delete their seller feedback. However, convincing them to do so is undoubtedly the challenging part. There are several considerations to make if you want to go this path.
Be Prompt: You should answer as soon as possible to show that you value the Amazon seller customer service. In addition, keep in mind that the feedback must be removed within 60 days of the posting date. The feedback cannot be withdrawn beyond this time frame.
Be Contrite: If you take the time to solve the issue properly and show that you care, customers will appreciate it. This has proven to be highly helpful in changing their viewpoint on your account and finally getting them to take down their inceptive feedback.
Do Not Request Feedback Removal Right Away: No customer will feel better about your attempt to transform their hearts if they believe that you are only being kind because you want something in return. To make this request, hold off until after you have fixed the issue.
Do Not Offer A Refund In Exchange For Removing Negative Feedback: Refunds for the removal of negative feedback are prohibited per Amazon policies. You absolutely do not want to violate this since doing so might result in the suspension of your account. If you do reimburse them, make sure it is for the inconvenience they encountered. Make sure to avoid mentioning refunds and removing feedback at the same time.
You are now ready to contact the buyer, having kept these safety measures in mind.
1. Visit the "Feedback Manager Page."
2. Click "View Current Feedback" after scrolling down.
3. You will be sent to the page "Resolving Negative Feedback" when you click the "Resolve" button next to the comment you want to resolve.
4. After that, click "Contact Buyer" and type in your message.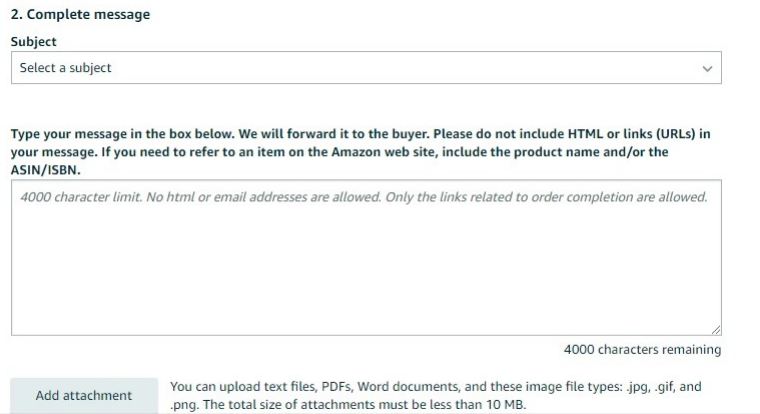 If the customer responds, which is to be expected, you may then proceed to make sure they are happy with your service. As mentioned above, after the buyer is satisfied, now is the time to wait patiently and politely ask them to get that negative feedback down.
Leave A Public Response On Amazon's Site
If everything else fails, there is one last step you may take to clear your name. There are situations when Amazon believes that your justifications for removing the negative comments are not strong enough. Sometimes even the customer chooses not to respond back to you in your attempt to remove negative feedback. In these cases, you still have one last chance.
It may not be as effective as the other two, but it still shows to other customers that you made an effort to connect and address customer concerns. All you have to do is:
1. Go to the "Amazon Seller Central" page and click the "Performance" tab. Then scroll down to "Recent Feedback."
2. Locate the negative comment that you want to remove.
3. Look for "Action" on the right and the drop-down menu next to the relevant Order ID. Now click the "Post a Public Reply" option.
4. For the person in question, write your Amazon Merchant response. Nevertheless, remember that you are also communicating to Amazon's audience in an indirect manner.
5. After one final review, hit "Submit."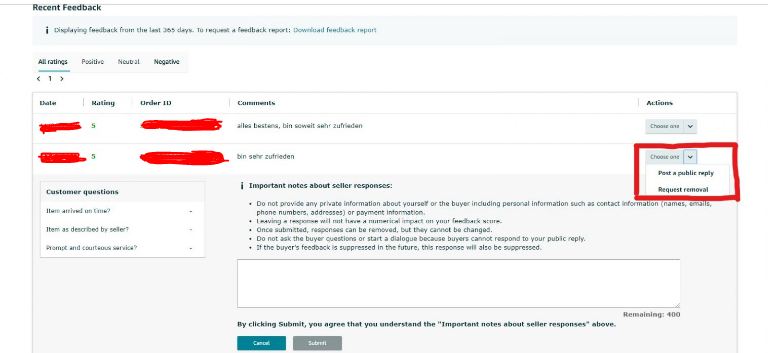 Ensure to do it right because this is your last chance to clear your point. Keep it brief, professional, and to the point. Avoid writing informally otherwise, your audience may perceive you as not being serious or sincere.
Importance Of Seller Feedback
Seller feedback is a key factor when Amazon awards the Buy Box. Amazon evaluates your average seller rating based on the seller feedback you have received over the past 12 months.
Your chances of landing a piece of the elusive Buy Box will increase if you have a feedback rating of above 95% (preferably over 98%). If your feedback rating is under 90%, you might want to reevaluate your selling practices.
Sellers should have a structured procedure for collecting and handling customer feedback. Even long-term sellers should keep collecting feedback.
It is not necessarily a bad thing to get negative feedback. It can be an opportunity for you to improve a part of your business where you might perform better and provide a great customer experience.
Keeping Negative Feedback Off Of Amazon
As they say, prevention is better than a cure. Here are three actions you may take to lessen negative feedback and product returns:
1. Make sure to optimize your listings. Provide better product descriptions and images.
2. Ensure you dispatch your products on time and respond to buyer queries quickly.
3. It is best to round up rather than down when determining the condition of an item.
Summary
Being a successful Amazon seller requires having a good seller feedback rating. Negative feedback on Amazon, however, is not necessarily conclusive. Ensure the comment complies with Amazon's strict feedback guidelines by double-checking. If it does not, attempt to satisfy the customer and have them take care of the removal themselves.
When selling on Amazon, the goal is to avoid being discouraged by negative feedback. To enhance your service and your appeal to potential customers, take a deep breath and handle feedback issues as they come.
If you concentrate on growing your business and providing exceptional customer service, a few occasional negative feedback will not harm you in the long run. Sellers will have no issue succeeding in the Amazon marketplace if they keep these objectives in mind.