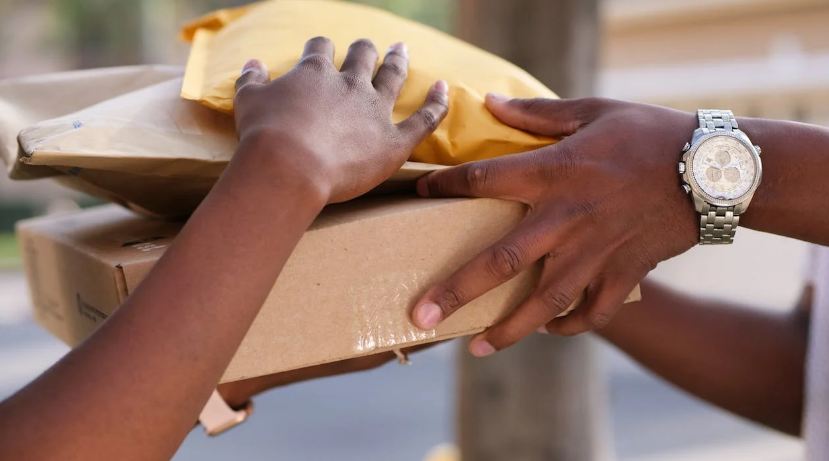 What is the best approach to get your products into customers' hands if you sell on Amazon? You should think about the effect it has on your business as an Amazon Seller Central seller.
Here are a few questions to consider:
Do you have the staff necessary to handle shipping tasks internally?
How do your operating expenses compare to FBA fees?
Which option will offer you the Prime badge to establish the credibility of your brand?
How long does it take to deliver the order to the customer?
If you want to become familiar with different seller shipping options, you have come to the right site. Read this article to discover all of Amazon's shipping choices available to sellers to streamline order fulfillment.
1. Fulfilled By Amazon (FBA)
One of the most popular Amazon delivery options for sellers who want to take full advantage of Prime shipping is FBA. In this scenario, Amazon is in charge of inventory storage, packing, and shipping to the customers. Amazon will store the products in their warehouse after receiving the inventory from the seller. Order returns and customer queries will also fall under Amazon's purview. For Amazon sellers who prefer to delegate their order fulfillment process to Amazon, it is a great shipping option.
Pros
Using the FBA shipping option makes the seller's product eligible for Amazon Prime. As a result, Prime members will receive free two-day shipping on the purchase, potentially increasing sales and bringing more exposure to your products.
Managing product delivery and returns as well as getting access to Amazon Prime members would be considerably easier.
Cons
Sellers are required to pay extra costs for order fulfillment, storage, and other Amazon services.
Product damage is more likely, hence sellers need more control over the shipping procedure.
2. Fulfilled By Merchant (FBM)
FBM, or fulfilled by the merchant, refers to a fulfillment option where the seller manages every aspect of the product selling process. This is one of the well-liked shipping choices that Amazon offers, allowing sellers to benefit from the freedom to manage their inventory levels, shipment scalability, fulfillment options, etc. Amazon enables its FBM sellers to list their products on its e-commerce platform, but inventory storage is the seller's responsibility. 
The seller would autonomously manage order returns, and the shipping process and solve customer issues. This Amazon shipping option is appropriate for merchants who wish to use Amazon as an extra marketing channel for their online store. The FBM shipping method might help you save money without incurring additional Amazon fees if the seller sells fewer products and generates lower revenue. A seller should utilize FBM if they can send their products through a third-party logistics network or through Amazon's delivery partner network for substantially less money. 
Pros
By choosing their shipping carrier, packing system, and delivery speed, the seller would be able to scale their delivery speed and have more control over the whole order fulfillment process.
There is no need to be concerned about adhering to Amazon's requirements for the shipping services it provides or unforeseen expenses resulting from modifications to Amazon's fee structure or order fulfillment policy.
Cons
You would not be able to use Amazon Prime shipping if you used FBM.
Due to the lack of prime shipping options, potential consumers may quit doing business with you. Approximately 103 million Prime customers shop on Amazon to get faster shipping, and they might prefer a different brand that has better delivery terms.
Customers would be less likely to discover your product listings and buy them since sellers would have to compete harder for the Buy Box on Amazon.
3. Seller Fulfilled Prime (SFP)
Another shipping option for sellers who have a warehouse where they store their inventory is called Seller Fulfilled Prime, which was developed by the Amazon program. To be qualified for this shipping program and maintain their commitment to fulfilling this criterion to ship through this program, the SFP sellers must have a history of successfully selling on Amazon for a while and show that they have the capacity to reliably deliver their items on time. Retailers may take advantage of the Prime logo and offer Prime delivery benefits to buyers while still maintaining control over their fulfillment process.
Pros
SFP would be a highly cost-effective and profitable choice that would let sellers leverage their order fulfillment services and third-party logistics providers to sell their products through Amazon.
You do not have to pay high FBA fulfillment costs to get a prime badge on your products.
Cons
SFP merchants are required to meet a number of performance criteria, including order cancellation rates and on-time delivery. The seller's account may be suspended, or they may no longer qualify for Prime if these conditions are not satisfied.
Prime users have high expectations for timely deliveries and excellent customer service. If an SFP seller does not meet these requirements, it might lead to negative reviews, unhappy consumers, and a decline in sales.
4. Amazon Seller Central
Amazon's invitation-only Seller Central program is available to merchants that manufacture their brand products. By using this profitable seller shipping option on Amazon, businesses may supply wholesale to the marketplace, and the platform takes care of the remainder of the fulfillment process. The seller is responsible for making sure the inventory is delivered on time to the Amazon warehouse. This service is provided by Amazon for product reselling.
Pros
An increase in sales for the brand.
For manufacturing merchants, Seller Central streamlines the whole order fulfillment process.
Cons
Sellers will have to mark down the price at which they offer their product.
Amazon may pose a significant threat to a brand if a seller offers their products through other channels.
5. FBA Onsite
With the help of FBA Onsite, sellers may utilize their own warehouses to store their inventory rather than transporting it to Amazon's facilities while still having access to the convenience of using Amazon's network and fulfillment services.
Sellers are given the option to apply for Prime Shipping and store inventory in their warehouse. This program combines the FBA and SFP features. Additionally, sellers may manipulate Amazon's software and shipping network by using FBA Onsite services. This saves money on the cost of the necessary software while allowing sellers to maintain key control over their order fulfillment process.
Pros
The FBA Onsite service is intended to be a more affordable substitute for Amazon's standard FBA service.
Amazon views the seller's warehouse as its own, and sellers have more control over their inventory.
The cost of delivery and other associated fees for order fulfillment can be reduced for sellers.
Cons
The FBA Onsite program is an invite-only program from 2018, and it is only available to a small number of merchants.
6. Shipping With Amazon (SWA)
Many Amazon sellers are still unable to use the newly introduced shipping service for sellers called Shipping with Amazon. Only sellers in selected locations have access to it. As long as orders are placed on the website, Amazon will handle the shipping process, allowing sellers to continue operating their businesses using their inventory. This implies to deliver the seller's products, Amazon would act as a shipping company, similar to FedEx, UPS, etc.
Pros
Sellers who want to sell their items under the Prime badge but at the same time want to avoid covering the overall fulfillment costs.
Brands can meet Amazon's exacting shipping standards.
Sellers who are ineligible for SFP or FBA Onsite shipping warehouses have this alternative.
Cons
Only a few sellers in selected locations have access to the program's limited geographic footprint.
Conclusion
There are several Amazon seller shipping choices available to sellers, each with benefits and drawbacks. Fulfillment by Amazon (FBA) is preferred by many businesses because of its advantages, such as Prime eligibility, simplified fulfillment services, scalability, and customer trust.
When picking an Amazon seller shipping option, sellers should consider factors such as cost management, inventory management, branding requirements, product features, international shipping, fulfillment capacity, and customer expectations. 
Which shipping option are you using currently? How is it going? Let us know in the comments below!